Horror movies have always had a fascination with 'scream queens,' from classic actresses of the Golden era such as Far Wray and Joan Crawford, to more recent stars like Jamie Lee Curtis and Linnea Quigley, the genre has constantly portrayed women as both victims and femme fatales. Since the slasher movie introduced the concept of 'the final girl,' and the likes of Buffy the Vampire Slayer

and

Lara Croft: Tomb Raider

have shown that women no longer have to be the

damsel-in-distress

, horror filmmakers have begun to write their female protagonists as stronger, more independent, characters, and not just defenseless victims. Perhaps the most promising young actress to be working in the genre today is

Bianca Barnett

, whose diverse body of work has seen her portray everything from a deformed monster to a corpse.





Born Bianca Evans on the 26th of August 1981, in Garland, Texas, the twenty-six year old actress has so far launched several websites (including

The Perils of Rock and Roll Decadence and Bianca's Boudoir

), and has appeared in various short films (available on

YouTube

) and music videos, before making her feature debut in Ramzi Abed's

The Devil's Muse

(aka

Black Dahlia Movie

). Her best role to date, though, is as the central villain Pig Bitch in the upcoming monster movie

Albino Farm

(previously covered in issue 32 of

GoreZone), which featured Barnett as the head of a clan of murderous mutants.


What first sparked your interest in the darker side of art? Allegedly, your parents owned a model company when you were a child, what can you reveal about this and how it had an effect on you?
"I was always weird and an outsider, so it was just a matter of time before I blossomed into a macabre mistress. I was always interested in studying metaphysics, the occult and spooky ghost stories even at a young age. Halloween was my favorite holiday of the year and horror movies simultaneously thrilled and frightened me. I'm sure my environment had some influence over me, even though I was more partial to monsters and horror rather than science fiction which my parents enjoyed. I had the opportunity of a lifetime to visit Bob Burns' personal movie memorabilia collection when I was twelve. I had the chance to sit in the original time machine, touch the werewolf from
An American Werewolf in London
, see Lily Munster's gown and Linda Blair's mock head. Mr. Burns even puppeteered some miniature aliens from the movie
Alien
for me! It was amazing and life changing. I knew I had to be involved in filmmaking after that."
Why choose acting and, more importantly, horror?
"I have always enjoyed entertaining people and it is really nice to get positive praise from people who dig what you do. It is also a challenge for me because I am quite shy, so pushing myself to do something out of the norm is a way to grow. Horror sort of came my way when I would go to special effects shops and volunteer to wear prosthetic makeups. Most actors and actresses shun the idea, but I think it's fun to become something else! I always found the bad guy or monster to be the most interesting character in a picture. I don't plan to limit myself to just horror films even though I love the genre. Anything smart and a bit dark is great, and I don't mind the challenge of trying something new!"


What were your early ambitions and what led to you starting your own site a few years ago?
"I was still floundering about, not sure what I wanted to do with my life. I knew I wanted it to be entertainment related, but there were so many options, I wasn't sure where to go. Originally, I had wanted to be an independent film director and I went to college to study film. I realized that I wasn't completely passionate about that, so I dropped out and moved to Los Angeles where I thought I would get hands on experience."

What came first, acting or modeling? Which do you feel you have progressed at the most and are there things you are willing to do for one and not for the other? Do you find success in one has helped with the other?
"I started modeling in my teenage years after a hair dresser spotted me walking in the mall. He asked me to do runway for an upcoming show and that progressed into more modeling work. I didn't really focus on becoming an actress full time until about two years ago. I suppose I got started late in the game, but it is really what I love to do and helps me overcome my personal demons. As an actress, I am still learning and progressing. I learn something new every time I work on something. I am actually quite shy in person, so this is a great opportunity for me to challenge myself to become more outgoing and free. Yes, I am willing to take unpaid work for a photographer if they have an amazing portfolio and can use me as a muse. I don't work for free or just points on a film, though. Modeling helped me to be more comfortable in front of the camera and learn to take direction. You won't believe how many people have a hard time following direction!!! I have been told that I have a very strong "look" which can be either a great asset or a hindrance. I've even tried out for softer roles and had the director change my part because he felt I had such a strong presence. Maybe I just look like a bully. :)"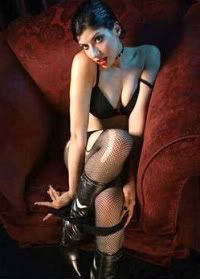 What made you decide to move out to LA and how daunting was it?
"I went to college in Texas to study film, but realized that it wasn't the heart of the industry. So, with $2000 in my bank account and only what would fit in my car, I drove out to Los Angeles and never looked back. It took a really long time to get accustomed to life here, but I think I am now grounded enough to not REALLY live in Hollywood La La Land. This town can be so superficial, but I have grown a thick skin and have become more resilient over the years."

How did you land your first acting role and what was it?
"My first real role was playing the mutilated corpse of Elizabeth Short in Ramzi Abed's
The Devil's Muse
(aka
Black Dahlia Movie
). I pop up a few times in that movie... it's kind of like playing "Where's Bianca?". I got the part through a friend of mine who knew Ramzi personally. He was originally from Dallas, too, so he welcomed me aboard his crazy, guerrilla filmmaking train. And I love him for that! I collaborated with him again in his upcoming film,
In a Spiral State
."


You have stated that you are comfortable with prosthetics and nudity. How scary is posing nude and what is the worst experience you have had with makeup/FX?
"Well, I am alright with doing them both, but now they are going to have to pay me a lot more for them! Posing nude is terrifying, I don't claim to have a perfect or even great body. But, everyone on set is as uncomfortable as you are, so you just take a deep breath and roll with it. When actors say that filming these scenes isn't sexy and it's awkward, they are being totally honest! As for prosthetics, once I am in them and on set, I am ready to perform. The worst part is waiting around for hours between scenes. That can just be excruciating. I came down with Viral Pharyngitis while shooting
Albino Farm
. It was just awful."

You have made thousands of friends on MySpace and gathered a cult following as a scream queen. What's your secret?
"Cast a spell over them all to trick them into befriending me. Honestly, I don't know why or how, but I am so thankful and thrilled to meet new friends and fans. I do my best to read and answer every single email and I always visit new friends' profiles. If someone took time out of their schedule to write me, the least I can do is write them back. I wouldn't be talking with you now if I didn't have the amazing fan base that I have. I will never forget that!"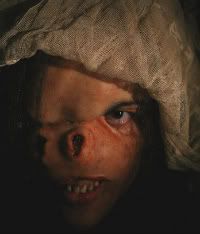 What are your ambitions as an actress? You have hinted at wanting to be a role model for women, how do you intend to accomplish this?
"I would love to make a living as an actress so I could do it full-time and pay bills. As far as being a role model, I love portraying smart and strong females who still embrace their femininity. This is a male dominated industry, so succeeding in this business is something I will be very proud of."
What are your plans for the future, what projects do you have lined up and what advice would you give to young actors and models wishing to take their first steps into the industry?
"I am always working on something, whether it is short films, commercials or music videos. I am looking forward to the release of films I worked on in the past few years. I also have a trilogy of films that I begin filming in about a month. I hope I didn't jinx it by talking about it! As for aspiring actors, I really recommend beginning work as an extra for film or television through a legitimate agency. It's really a crash course in how things work and you get the chance to be on set. Most people who do this the first few times realize they do not want to be actors anymore. Days are generally 12-15 hours long with a lot of waiting between shots. You have to do the same actions over and over again. You have to be punctual, follow rules and take direction well without any bitching. As for models, start by building a portfolio with local photographers. Be safe and careful who you work with, though, because I have been taken advantage of in certain situations."

www.myspace.com/christiansellers